DECEPTIONS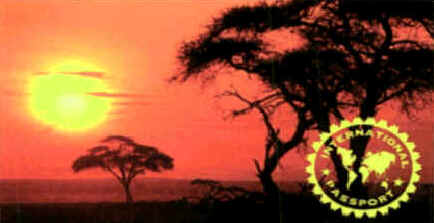 Wind of Change

a new musical*



Music by Book by Lyrics by
Rita Pearlman Linda Brager Linda Brager


Edie Catto
Rita Pearlman

*Originally developed by Curtain Call Productions, LLC under
the artistic direction of Scott Susong

© Deceptions 1999, 2000 Brager/Pearlman



Setting: Nairobi; 1962

Cast of Characters
| | |
| --- | --- |
| Michael Ramsey | S. Lee Lewis |
| Sir Edward Dixon | Josh Singer |
| Lady Hope Whitechurch | Courtney Davis |
| Daniel Njojo | Larry A. Woodland |
| Gabrielle Wongko | Adonice Cully |
| British Soprano | Vivian Fenstermaker |
| British Alto | Melissa Weinberg |
| British Tenor | B.J. Moran |
| British Bass | Jeremy Blaustein |
| Kenyan Tenor/Aaron | Richard T. Moore |
| Kenyan Bass/Thomas Odinga | David "King" Hinton |
| Kenyan Alto/Ruth | Jeanie Shattuck |
Stage Directions read by Jeanie Shattuck

Production Team
| | |
| --- | --- |
| Director | Scott Susong |
| Musical Director | Nick Williams |
| Stage Manager | Jeanie Shattuck |
Piano Arrangements and Vocal Arrangements
by Nick Williams

"Today the same thing is happening in Africa, it takes different forms, but it is happening everywhere. The wind of change is blowing through this continent, and, whether we like it or not, this growth of national consciousness is a political fact. We must all accept it as a fact, and our national policies must take account." —Harold Macmillian
Act One Scene Synopsis
SCENE ONE: Plantation Fields/Nairobi Train Station
| | |
| --- | --- |
| Working Song | Kenyans |
| Hope's Theme/ Wind of Change | Instrumental |
| Forever | Michael |
| Transition No. 1 | Ensemble |
SCENE TWO: Verandah, Plantation Main House
| | |
| --- | --- |
| I Will Stay With You | Hope and Michael |

SCENE THREE: Streets of Nairobi
| | |
| --- | --- |
| Africa Calls! | Kenyan Bass and the Kenyans |

SCENE FOUR: British Colonial Offices, Nairobi
| | |
| --- | --- |
| Transition No. 2 | Ensemble |
SCENE FIVE: British Colonial Offices/Streets of Nairobi
| | |
| --- | --- |
| Deceptions | Hope and Edward |
| Welcome to My Nairobi | Gabrielle and Michael |
| Quartet | Hope, Edward, Gabrielle and Michael |
| Transition No.3 | Ensemble |

SCENE SIX: British Colonial Offices

SCENE SEVEN: Nairobi Streets/Street corner cafe
| | |
| --- | --- |
| Do I Dare | Gabrielle |
| Transition No. 4 | Ensemble |
SCENE EIGHT: Verandah/Plantation Fields/Street/Colonial Offices
| | |
| --- | --- |
| For One Brief Moment | Michael |
| The Control Trio | Hope, Gabrielle and Edward |
| Wind of Change: Act 1 Finale | Kenyan Bass and Ensemble |

Act Two Scene Synopsis

SCENE ONE: Verandah, Plantation Main House
I Need Your Love

Transition No. 5

Hope and Michael

Ensemble
SCENE TWO: Nairobi Streets/Street Corner Cafe
SCENE THREE: Interior of the Whitechurch Plantation House/Foyer
Party Talk Pt. 1

Party Talk Pt. 2

Colonial Guests and Kenyan Servants
Ensemble
SCENE FOUR: Verandah, Plantation Main House
SCENE FIVE: British Colonial Offices
Deceptions (Reprise)
Gabrielle
SCENE SIX: Nairobi, Street Corner Cafe
| | |
| --- | --- |
| For One Brief Moment (Reprise) | Michael |
SCENE SEVEN: British Colonial Offices
Pay Backs (Reprise)

Transition No. 6

Edward and Daniel

Ensemble
SCENE EIGHT: Verandah/Plantation Fields
Forever (Reprise)

Wind of Change: Act 2 Finale

Michael and Gabrielle

Company
S. Lee Lewis (Michael), a Towson University junior, was last seen as Valére in The Miser on the Towson University Mainstage. He has worked with Mr. Susong prior to this project on Fiddler on the Roof (Production Stage Manager), Lindbergh Baby Kidnapped (Assistant Director/Dramaturg), and The Pajama Game (Pop). Lee spent the last summer directing for Church Hill Theatre, where he directed Annie with the Green Room Gang and fumbled into directing a production of Gypsy. Past performance credits include Our Country's Good (Rev. Johnson), Brigadoon (Charlie) and Into the Woods (Baker).

Josh Singer (Edward), a recent graduate of Towson University, is very proud to be participating in his second workshop of a world premiere musical under the direction of Mr. Susong. The first was Lindbergh Baby Kidnapped (Harry Hackett), after which he appeared in the world premiere production at Baltimore's Theatre Project. Josh has also recently appeared in Fiddler on the Roof (Motel) at Cockpit in Court, Tale (Riley) at Center Stage, Say You Love Satan (Minion) at Source Theatre in Washington, D.C.

Courtney Davis (Hope), a Towson University senior, is honored to have been asked to participate in the first public reading of Deceptions. Most recent credits include An Evening of Shakespeare with Charles "Roc" Dutton (Desdemona), The World Goes 'Round (Female Cover/Swing), Our Country's Good (Liz Morden), and A Chorus Line (Sheila). She is currently rehearsing for Company 13's production of A Midsummer Night's Dream (Titania) and will be playing Smitty in How To Succeed . . . Trying this fall at Towson University.

Larry A Woodland (Daniel) last seen as the caterpillar in the Baltimore Children's Theatre production of Alice in Wonderland. Past productions include Harvey (Duane Wilson) for Infinity Productions, Scrooge (Jacob Marley), Arsenic and Old Lace (Dr. Einstein), and Inspecting Carol (Walter Parsons) for Spotlighters. Larry plans to move to NYC this fall to complete a Master in Social Work at Fordham University and to continue to pursue his performance endeavors.

Adonice Cully (Gabrielle), a Towson University junior, recently returned to Baltimore after working on a project with Disney's Animal Kingdom in Lake Buena Vista, Florida. Past credits include Grease (Frenchy) at Towson Dinner Theatre, They're Playing Our Song (Sonia's Alter Ego) at Timonium Dinner Theatre, and How to Succeed . . . Trying (Miss Jones) at Broadneck. Donice plans to pursue a career in musical theatre, film and television after graduation.

Vivian Fenstermaker (British Soprano) has just finished her freshman year at Colombia University where she is majoring in neuroscience. A graduate of Roland Park Country School, Vivian has been active in local theatre for years including several seasons with the Maryland Arts Festival. Favorite roles include Hodel in Fiddler on the Roof, Little Red in Into the Woods, Sandy in Grease, Polly in Crazy for You, and Lily in The Secret Garden.

Melissa Weinberg (British Alto) is excited to be part of this reading. She is a 2001 graduate of Carver Center for Arts & Technology where her credits include Laurey in Oklahoma! and Pitti Sing in The Mikado. Most recently Melissa played Chava in Fiddler on the Roof at Cockpit in Court under Mr. Susong's direction. She will be appearing in A Funny Thing . . . Forum later this summer and will attend Shenandoah Conservatory in the fall to study musical theatre.

B.J. Moran (British Tenor) recently graduated from Carver Center for Arts and Technology. In the fall he will be entering Point Park College where he will study musical theatre and dance. Some of his favorite local credits include, Yussel in Fiddler on the Roof, Seymour in Little Shop of Horrors, and Charlie in Tintypes.

Jeremy Blaustein (British Bass) recently graduated from Carver Center for Arts and Technology. In the fall he will be entering Marymount Manhattan College where he will study theatre. Some of his favorite local credits include, Mendel in Fiddler on the Roof, Jeff Moss in Bells Are Ringing and TR in Tintypes.

Richard T. Moore (Kenyan Tenor/Aaron), a Towson University Pre-Med graduate, is a member of the Kuumba Players, a black acting troupe and has appeared on stage at the Ensemble Studio Theatre in NYC. He was an extra for the film, The Replacements and spends his spare time auditioning for commercials, theatre and film roles.

David "King" Hinton (Kenyan Bass/Thomas Odinga), is a music theater student of Mr. Susong's at Towson University. He is excited to participate in this new musical. He is currently appearing as Jake in Side Show for the Maryland Arts Festival. Past credits include the Baltimore Opera Company's production of Aida (Egyptian Slave), Guys and Dolls (Gambler) and Three Penny Opera (Ensemble). He is a three-time winner of "Show Time at the Apollo" and has appeared in NBC's Homicide.

Jeanie Shattuck (Production Stage Manager/Kenyan Alto & Ruth) is pleased to be working on this new musical. She is a recent graduate of Roland Park Country School, where she played Terry in Stage Door under Mr. Susong's direction. Other RPCS credits include Romeo and Juliet, Crazy for You, and Once Upon A Mattress. In the fall she will be entering Franklin and Marshal College where she will study political science and continue working in the theatre.

Nick Williams (Musical Director/Arranger) recently created vocal and additional piano arrangements for Lindbergh Baby Kidnapped. Nick has been arranging music since high school, and projects have included creating piano reductions, arranging for SATB Chorus, some minor orchestrating, creating medleys, and most useful to his friends: transcribing from recordings. Nick has also musical directed Joseph . . . Dreamcoat and An Evening with Sondheim and Webber, and he has performed as a rehearsal accompanist as well as a pit band member for numerous musicals including most recently Cabaret.

Scott Susong (Director) is the Artistic Director of Curtain Call Productions, LLC, which recently CO-produced the world premiere of Lindbergh Baby Kidnapped; a new musical, at Baltimore's Theatre Project. After relocating to Baltimore in the fall of 1998 from New York City, Mr. Susong made his local directing debut with his new version of the classic American musical, The Pajama Game, on the Towson University Mainstage. He has acted, directed and designed for theatre throughout the United States, Mexico, Canada, and Southeast Asia. Among Mr. Susong's favorite directing and design credits are Fiddler on the Roof, Stage Door, The World Goes 'Round, Antigone, Cabaret, and Rivkala's Ring. Mr. Susong's performance background embraces professional acting in more than 50 plays & musicals. Most recently he played Rolf in the 1996-97 international tour of The Sound of Music, starring Marie Osmond. It was featured as part of the 100 Days of Wonder as Hong Kong returned to Chinese sovereignty. He holds a B.A. in Theatre from the University of Texas at El Paso (acting emphasis), and is currently finishing an M.F.A. in Theatre at Towson University (directing and design emphasis). He is a 2000 recipient of the Towson Graduate Student Association Award and is currently teaching Musical Theatre Performance in the undergraduate program at Towson University and serving as the Director of Upper School Theatre at Roland Park Country School.

Edie Catto (CO-Librettist) is a director, performer and theatre maker. She is currently an MFA graduate student at Towson University. Ms Catto recently returned to the stage playing the Nurse in Cockpit in Court's production of Romeo and Juliet. She looks forward to developing more new works in the Baltimore/Washington area.

Linda Brager (Lyricist/CO-Librettist) had her first theatrical experience on stage at the Lyric Theatre at the age of three. She continued her love of music and theatre through college writing a play about a mental patient in Spring Grove hospital while still an undergraduate. Even though she married out of college and raised three children she continued in the theatre choreographing for several musicals including Bye, Bye Birdie and Oliver! She would like to thank her children for all their love and support through this long and arduous process.

Rita Pearlman (Composer/CO-Librettist) teaches private beginner piano lessons starting with four-year-olds and beginner flute lessons starting with eleven-year-olds. Her love of the theatre began in elementary school where she participated in talent shows and local television commercials. Her first musical endeavor was as composer librettist of Wondrous, a new musical which premiered at Spotlighters in 1993. She traveled in 1972 to Kenya to visit her brother and this experience helped to inspire the setting for Deceptions: Wind of Change. She is the proud mother of two sons, Lewis and Stuart, and has recently added a daughter-in-law, Michele – Lewis' wife. Special thanks to her loving mother, Dorothy and her best friends Grace and Kevin.
© Deceptions 1999, 2000 Brager/Pearlman
Ralph Roseman, General Manager
1501 Broadway, Suite 1404
New York, NY 10036